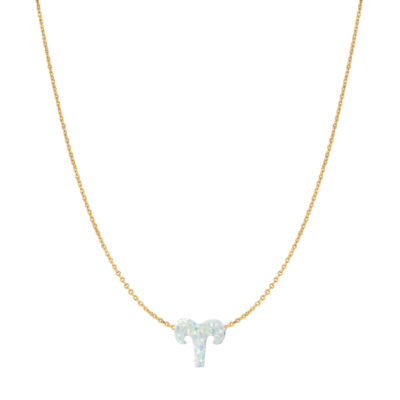 14 Karat Gold Pure White Opal Zodiac Sign Necklace
$179
The 14 Karat Gold Pure White Opal Zodiac Sign Necklace is the perfect personalized piece! The Zodiac, deriving from the Greek word "circle of animals," is an "imaginary band" in the sky through which the sun, moon and planets move. The 12 constellations in the shape of animals in the band include Aries, Taurus, Gemini, Cancer, Leo, Virgo, Libra, Scorpio, Sagittarius, Capricorn, Aquarius and Pisces, the familiar signs used in astrology. Astrology allows us to understand humans using these 12 zodiac signs that tell us about an individual's characteristics, preferences, flaws and fears. You surely can't go wrong gifting this unique piece to a special someone!
These pieces each have different measurements but are no larger than 10 mm by 10 mm.
The cable link chain can be adjusted to fit 16 inches, 17 inches or 18 inches.
This piece has a solid 14 karat gold lobster lock.